eMAR
Giving you control with
medication management

Helps you save time which can be
reinvested into resident focused care
Point-of-Care (POC)

Care Planning
Our ePlan solution is the core of our system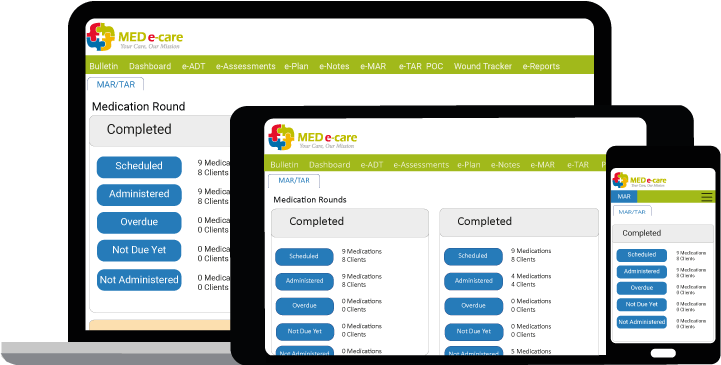 MED e-care offer a modular suite of cutting edge solutions supporting you to deliver, record and analyse excellent care at every stage of the resident care life-cycle. Whilst meeting CQC/regulatory requirements and driving quality improvements.
Our solutions combine to create a seamless, flexible, electronic health record that can be easily adjusted to reflect the needs of your residents, carers, nurses and organisation.
We won't rest until you have realised the significant benefits of MED e-care's solutions and when you've reached that point, we'll carry on helping you improve in the long term.
Sign up to our Newsletter!
Paperwork getting you down?
Watch the videos below to see how MED e-care can be the solution to all of your medication management and care planning needs.
See what our customers have to say...
"I am amazed how MED e-care has helped this home not only record how good my staff are but has allowed the care team to develop their skills and hone into following a more person-centred care philosophy, ultimately creating an outstanding care home"
Read More
The service looked at how they could improve [errors in medication management] and have now introduced electronic recording of medicines [MED e-care eMAR] with dispensing direct from original packaging. The new system allowed management to complete more comprehensive audits and also ensured a safe and effective way for staff to administer medicines safely and effectively."
Read More
Interested in our products or services? Book a FREE demo, at a date and time that suits you.
Just click the button and fill out the simple form and we will get back to you in 48 hours. Realise your care homes potential  with our bespoke eMAR and Care Planning solutions to suit all your  documentation needs.